Most services to Exeter International airport are operated by the low-fares airline Flybe. Flybe is the largest independent regional airline in Europe and has it's main base at Exeter. Flybe began operation in 1979 as Jersey European airways, in 2000 it rebranded as British European airways and in 2002 it repositioned itself as a low-fare airline and shortened it's name. Today Flybe operates on nearly a hundred routes to the United Kingdom, France, Spain, Germany, Ireland, Switzerland, Austria, Netherlands and Portugal.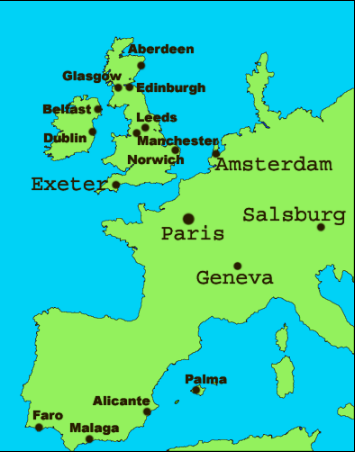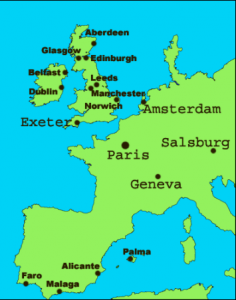 Within England, Flybe flies from Exeter to Leeds, Newcastle, Nottingham, Manchester and Norwich. From Exeter, Flybe flies to the Scottish cities of Aberdeen, Edinburgh and Glasgow.
Flybe also flies to Gurnsey and Jersey on the Channel islands. To Ireland, Flybe flies to Dublin and Belfast. Flybe flies to major continental European cities such as Paris, Amsterdam, Geneva and Salsburg. Other popular flights are to Alicante, Malaga and Palma in Spain and Faro in Portugal.
There are no direct flights between Exeter and London. Although, it could be possible to fly between Exeter and London with a stop-over. For example; Exeter to Jersey and then Jersey to London Gatwick. However, the inconvenience and delay of a stop-over means that it is probably better to take a fast train to travel between London and Exeter.
Air Transat and Flyglobespan offer flights between Exeter and Toronto, Canada. Skybus offers flights between Exeter and the Isles of Scilly. A number of charter flights such as First Choice, Excel and Thomsonfly also fly to and from Exeter airport.